Local Business Involved with our Communities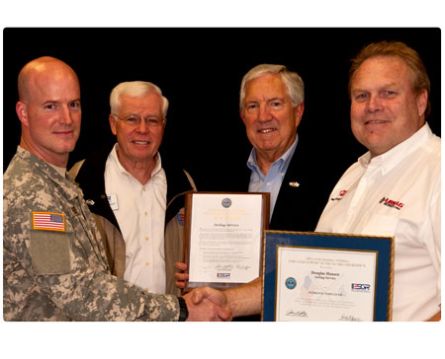 Pictured left to right: Lt. Dan Pierce, Technician at Puget Sound Airbag Service, Bob DeWald and Dennis Newell, Washington State ESGR, Doug Hansen, President of Airbag Service
Airbag Service Receives Patriot Award from Department of Defense
It's one thing to put a support our troops" bumper sticker on your car, another thing to actually do it. - Airbag Service Customer

Bellevue, WA. October 5, 2011: Airbag Service, has received the Patriot Award acknowledging the small business' sacrifice that made it possible for a father of three to pursue his dream of military service. Second Lieutenant Dan Pierce of the 161 HHC Infantry Unit nominated Airbag Service for the award. 


Airbag Service employs Lieutenant Pierce as an automotive technician. 
Read full Press Release at the ESGR website.

 Miss Airbag Service Races at Seafair

Miss Airbag Service driven by Mike Webster at Seattle's Annual Seafair Celebration honoring Navy Servicemen and Servicewomen