CRASHES ARE THE LEADING CAUSE OF DEATH FOR TEENS
Many teens drive used cars. Unfortunately, due to the high cost of air bags and the lower priced cars that fit a new driver's budget, poorly repaired or missing air bags or other Supplemental Restraint System (SRS) are a high risk.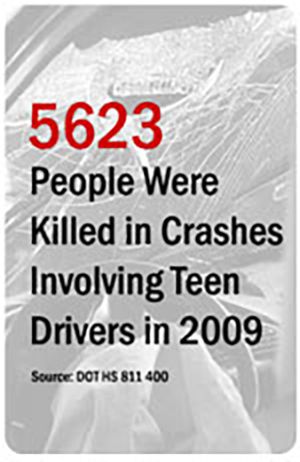 Air Bags Increase Survivability Rates 11% for the Driver and 14% for the Passenger
We, and any other ethical company that deals with the aftermath of automobile accidents, believe strongly in prevention first. 

The cost of a safety inspection by a licensed Airbag Service technician is minimal. The cost of your teen's air bags, seat belt or SRS needlessly failing during an accident is tragic. 
 What Parents Can Do 
Get your family's used cars inspected by a certified air bag technician 
Check tire pressure and tire tread once a month 
Before your teen rides with others, ask if their safety system has been inspected 
Remind your teen to always buckle-up T
Talk about driving risks with your child Data 
Sources: NHTSA, IIHS 
How Can You Protect Yourself and Your Loved Ones?
Get the Car Inspected by a Certified Air Bag
Technician Order a vehicle history - look for accident history and service records
Search the U.S. Dept. of Transportation database for registered vehicles with deactivated airbags 
Know the safety features of the make/model/year you are purchasing 
Have the dealer confirm - in writing - the safety features are present and in working order